CARNOUSTIE AYURVEDA & WELLNESS RESORT / MARARIKULUM – KERALA
Resort Overview
Location :Ayurveda Beach Resort at Mararikulum
Star Rating : Beach Resort
Amenities : Front Desk, Restaurant, Lounge, Coffee Shop Total Rooms : 32 Rooms
Facilities : Laundry, Medical, Spa, Currency Exchange, Free Wifi, Free Parking, Air Conditioning, Pool.......

About Carnoustie Ayurveda & Wellness Resort
The resort offers authentic ayurveda treatment , naturopathy, marma ,pranic healing and yoga classes. A complete treatment for your mind, body and soul under expert guidance.

For leisure activities you have a beach, world famous backwaters, swimming pool, cycling, village walk and 25 acres of landscape gardens providing you the solace of nature and environment.
Location
Carnoustie Ayurveda & Wellness Resortlocated On the shores of the Arabian Sea with beautiful beach for meditation or lazing, this retreat specializes in Ayurvedic treatments such as Pranic healing to relieve medical conditions, anti-aging treatments and Panchakarma.
Amenities
Basic amenities like wardrobe, work desk, telephone, sitting area, private pool and an attached bathroom.
Rooms
Carnoustie Ayurveda & Wellness Resort offers a range of exquisitely furnished villas complete with private pool/pond and timber laden decks. All the villas are a perfect fusion of traditional and modern Kerala architecture. Well-appointed rooms, lavish bathrooms and artistically designed walk-in dressers ensure the comfort guests are looking for in their holiday getaway..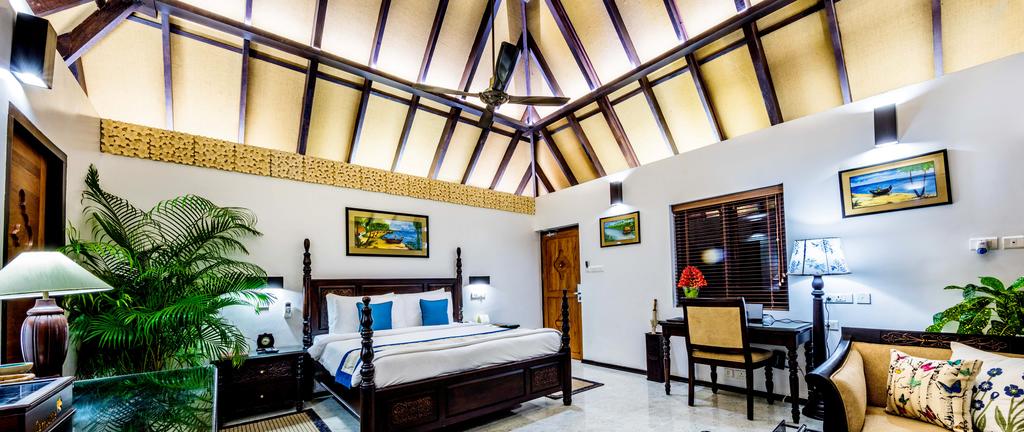 Dinning
Set amidst beautifully landscaped gardens, Ida and Chimaera restaurants serve a range of local delicacies. Ida serves a variety of international dishes, while Chimaera specialises in regional seafood.The resort also has an organic garden, growing fruits, vegetables, spices and herbs for the restaurants and the spa.





SPA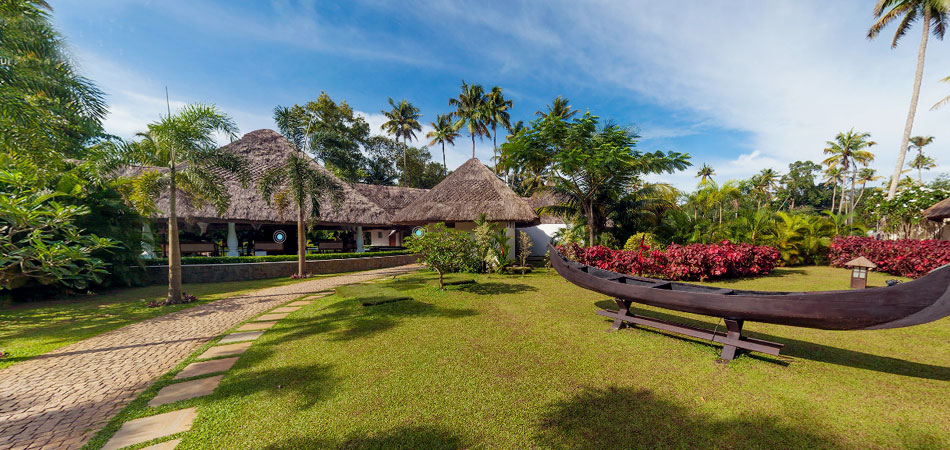 The resort houses a Spa (ARYAVAIDYASALA), practicing an ancient Indian mystique art of healing, the scientific art that brings the mind and body in harmony with Mother Nature; the science of Ayurveda. Derived from Sanskrit, the compound word Ayurveda, implies two connected ideas – 'the science of life' and 'the art of living'. Accompanying the healing touch of Ayurveda, the Spa also offers the finest of Yoga and Naturopathy treatments. Specially designed rejuvenation, body purification, slimming, anti-stress and beauty programmes can also be availed at the resort to help you relax, detox and improve your well-being. In addition, a wide range of Spa treatments like, Marine Pedicure(Ultra Exfoliation with Marine Mud and salt), Re-balancing Back Treatment, Herbal Body Scrub, Aromaceane Treatment, Post Workout Massages/Deep Tissue Massages, Foot Reflexology, Manicure and much more are offered at the resort Spa to add to your rejuvenating experience. It offers its guests holistic treatments, combining practices of Ayurveda, Yoga, Marma, Mantra and Naturopathy. The diet at Carnoustie is an important aspect in its approach to wellness. The treatments focus on strengthening and rejuvenating the body, mind and soul. It involves natural methods and ingredients combining a blend of modern science with traditional, age-old practices to rejuvenate and re energize the mind and body.
View more pictures on Spa click here....
We chose TSI because they are experts in trips for all ASIA. We planned our honeymoon over Sri LANKA and Maldives with them because they give the best tips, value, conditions, hotels and service for the trip. You have a choffer exclusively for you during all trip, and drop you in the best restaurants, shops and places. choosing TSI is choosing quality rigor, seriousness, profesionalness. .......

Guillermo Pombo ,SPAIN

I have travelled to India with TSI many times because I have full confidence in their superior communication ability to understand my requirements. They are able to make suggestions and answer queries without fear or favour which is very valuable when I organise my small group tours and need their expertise. They have a great team of experienced and young agents who are efficient and empathetic to general enquiries and are always there to support me when I am on tour. Whether emailing from Australia or phoning from India I consider them an integral part of my tour operation. I thank them all most sincerely and congratulate them for a superior and high standard of work and friendship..........

Marnie Barter ,Melbourne, Australia

We had a marvelous trip to India with TSI. All arrangements like hotel, driver, sightseeings etc. that were organized by them were perfect. On a regular base during our trip the head office of TSI called us to inform if we were still satisfied by the services they provide. And yes, of course we were. Thanks TSI for the gift of a perfect memory.........

John Bregman ,NETHERLANDS

It was an amazing trip. I feel very comfortable and safe with my driver and guides. My guides were warm, welcoming and very knowledgeable. My appreciation for India has increased immensely. I will be returning to India next year and will use TSI's services again. .........

Robin Everett ,USA

Just a short message to tell you that we are now back to France, after our wonderful stay in India. Everything was so well organized, we were very satisfied with the services of the drivers and guides, and we were happy about our intensive visiting program. We are really fascinated by your beautiful country.........

Mihaela and Cornelia ,France

A very well organised roundtrip through a beautiful country. Nice excursions and still plenty of free time. Very good and friendly driver, who was giving us a lot of extra information and showed us the most beautiful places. India was a very holiday for us thanks to TSI......

Nico van der Sluijs ,NETHERLANDS

It has been a great experience for us to visit india .All trip has been well organized and it has covered our expectations .You(Travel Spirit international) are A very good travel agency and we will comment it to our country's travel agency. We have been assisted excellently in every moment.The hotels during the whole trip have been very comfortable and nice. The driver Pawan has been on time,and polite ,perfect driver.....

Mr. Albert Roig ,Spain
India Tour Packages