Coconut Lagoon,Kumarakom
Resort Overview
Location : 10 Kms from Kottayam. 78 kms from Cochin....
Star Rating :Heritage
Total Rooms : 42 Rooms
Facilities :Shopping Arcade, Health Club, Swimming Pool, Water Sports, Ayurveda Treatment Centre....

About Us
Hidden among the palm trees on the eastern shore of Lake Vembanadu, at the mouth of the Kavanar River, Coconut Lagoon Heritage Resort is set on a coconut plantation in the very heart of these fascinating backwaters, and has been designed to give visitors an authentic insight into Kuttanad life. The resort can only be reached by boat. Govt. approved hotel with Indian, continental and sea food specialty, restaurant and bar. Ayurvedic massage, yoga and meditation, country boat expeditions, visit to bird sanctuary, 'Rice boat' cruises, fishing, swimming. Ayurvedic centre, swimming pool, health club, fishing expeditions 37 part ac rooms. Swimming Pool, credit cards etc.
Description of Coconut Lagoon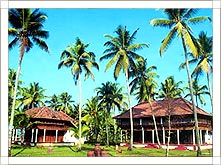 The resort can only be reached by boat - a ferry leaves from one of several "mainland " embarkation points at scheduled times throughout the day - and its accommodations consist of individual cottages called " Tharawads ", the traditional wooden house of Kerala. Though some of these cottages are of more recent vintage, many are well over a century old and a few actually date back to the early 1700s. Painstakingly dismantled and brought to their new Lake Vembanad site from various villages and plantations in the surrrounding countryside ( where because of high unkeep costs they had been abandoned or were doomed for destruction ) these tharawads have been re-assembled peice by piece in accordance with " Thachu shasthra, the ancient rules and rites of carpentry, and set within the coconut grove's well-manicured network of irrigation canals, all of which have been lovingly preserved. Each ancient building is a veritable museum unto itself, and each has its own tale to tell.
Location of Coconut Lagoon, Kumarakom
10 Kms from Kottayam. 78 kms from Cochin.
Getting There
Direct ferry from Casino Hotel, Cochin. Also travel half-way by road and take the ferry from Puthenangadi jetty or Kumarakom.
Climate
23 C , Max : 32 C.
Cuisine
Ethnic and international ( buffet )
Things to do
Ayurvedic Massage, yoga and meditation, country boat expeditions, visit to bird sanctuary, " Rice Boat " cruises, fishing, swimming.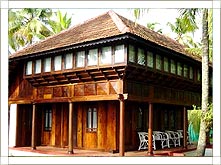 Amenities at Coconut Lagoon, Kumarakom
Shopping Arcade, Health Club, Swimming Pool, Water Sports, Ayurveda Treatment Centre, Country Canoe Expeditions, Bird Watching, Fishing Expedition, Sunset Cruise, Cultural Programme, Village Expeditions.
Accomodation of Coconut Lagoon, Kumarakom
14 Heritage Mansionsm, 28 Heritage Bungalows, 8 Private pool Villas. Though all the cottages vary in configuration, and some of the airconditioned units are newly built replicas incorporating only fragments of old " tharawads " that could not be saved in their entirety, Coconut Lagoon offers three basic types of accommodation : Heritage Mansions, Heritage Bungalows and Private Pool Villas. The former have two stories, the upstairs bedroom gallery offering particularly magnificient views of Lake Vembanad.
The latter are more compact, single-level cottages. Both are furnished in alyny and jack woods, and retain all the charm of original family homes, with thick, solid doors, intricate window carvings, and terra cotta tile floors. Structually necessary alternations have been carried out with consummate discretion, ie., in keeping with the style and decor of the era, and great attention has been paid to every detail. The lampstands in each " tharawad ", for example, having been carved from old wooden hinges. Traditionally, of course, Keralites bathed in the rivers - in rural areas many people still do - but Coconut Lagoon's cottages feature ultramodern bathrooms, each located in an inner courtyardd boasting its own banana ( or coconut ) tree, so you can shower al fresco under a starlit sky in complete and utter privacy !
Reception
The reception building itself, for example, is a " nalukettu ", a design that features a four-cornered open-rrof courtyard within the basic structure. Originally located in the village of Vaikom not far from Coconut Lagoon, it was know as " Kalapakasseril Illom" - the workd illom signifying a mansion belonging to a member of the Brahmin Caste - and was constructed in 1860. The illom was purchased in 1993, at which time a team led by Bhaskaran Ashari, one of Kerala's few surviving master craftsmen still familiar with the traditional thachu shasthra style of carpentary, went about the task of reconstructing the mansion at its present location.
Restaurant of Coconut Lagoon, Kumarakom
Cited in Arundhati Roy's Booker-Prize winning best-seller, " The God of Small Things. " the restaurant at Coconut Lagoon is renowned as much for its superb Kerala cuisine ( vegetarian and non-vegetarian alike ) as for its authentic setting, and is housed in one of the resort's most impressive " tharawads ". Knowns as an " Ettukettu ", the building incorporates two atrium-like courtyards under and expansive tile roof supported by dozens of slim columsn, a design that enables the space within to benefit from the slightest breeze. The restaurant is the oldest structure at Coconut Lagoon, and it, too, formerly belonged to a prominent Malayali family living in a nearby village.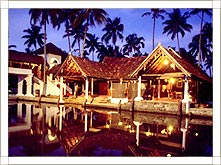 Leisure Activities at Coconut Lagoon, Kumarakom
Sunset Cruise :
There can be few better ways to adjust to the pace of backwater life than to spend the waning hours of the afternoon just watching the sun go down.
Backwater Cruise :
A relaxing boat trip through the maze of canals adjacent to Coconut Lagoon is a fascinating experience, and a delightful way to get a closer look at life in the backwaters.
Bird Sanctuary:
On the southern bank of the Kanavar River, immediately opposite Coconut Lagoon, is a small bird sanctuary, where numerous species of birds, including Darters, Bitterns, Brahminy kites, Marsh Harriers, Teals, and several varieties of Herons roost.
Coconut Lagoon's Ayurvedic Center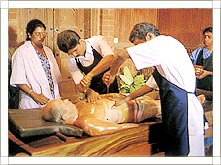 Ayurveda, the Science of Life, is almost as old as the Indian civilisation. It's holistic approach, the efficacy of its therapies and the absence of distressing side affects are some of its more salient features. Throughout the world there is a rising awareness of the benefits of natual health systems. Health in the ayurvedic view represents the Harmony of body, mind and soul. It's pharmacopia is nature herself and its diagnostic and curative tools have been derived from the invaluable legacy of insights, experience and knowledge bequeathed to posterity by its great masters. It is based on natural principles that inform and animate human life. The Coconut Lagoon offers the following therapies at it's Ayurvedic Centre under the guidance of an expert " vaidyan " ( physician ) whom you may consult for a fuller understanding of symptoms and appropriate treatment. It is well equipped with a dispensary and qualified resident staff.
We chose TSI because they are experts in trips for all ASIA. We planned our honeymoon over Sri LANKA and Maldives with them because they give the best tips, value, conditions, hotels and service for the trip. You have a choffer exclusively for you during all trip, and drop you in the best restaurants, shops and places. choosing TSI is choosing quality rigor, seriousness, profesionalness. .......

Guillermo Pombo ,SPAIN

I have travelled to India with TSI many times because I have full confidence in their superior communication ability to understand my requirements. They are able to make suggestions and answer queries without fear or favour which is very valuable when I organise my small group tours and need their expertise. They have a great team of experienced and young agents who are efficient and empathetic to general enquiries and are always there to support me when I am on tour. Whether emailing from Australia or phoning from India I consider them an integral part of my tour operation. I thank them all most sincerely and congratulate them for a superior and high standard of work and friendship..........

Marnie Barter ,Melbourne, Australia

We had a marvelous trip to India with TSI. All arrangements like hotel, driver, sightseeings etc. that were organized by them were perfect. On a regular base during our trip the head office of TSI called us to inform if we were still satisfied by the services they provide. And yes, of course we were. Thanks TSI for the gift of a perfect memory.........

John Bregman ,NETHERLANDS

It was an amazing trip. I feel very comfortable and safe with my driver and guides. My guides were warm, welcoming and very knowledgeable. My appreciation for India has increased immensely. I will be returning to India next year and will use TSI's services again. .........

Robin Everett ,USA

Just a short message to tell you that we are now back to France, after our wonderful stay in India. Everything was so well organized, we were very satisfied with the services of the drivers and guides, and we were happy about our intensive visiting program. We are really fascinated by your beautiful country.........

Mihaela and Cornelia ,France

A very well organised roundtrip through a beautiful country. Nice excursions and still plenty of free time. Very good and friendly driver, who was giving us a lot of extra information and showed us the most beautiful places. India was a very holiday for us thanks to TSI......

Nico van der Sluijs ,NETHERLANDS

It has been a great experience for us to visit india .All trip has been well organized and it has covered our expectations .You(Travel Spirit international) are A very good travel agency and we will comment it to our country's travel agency. We have been assisted excellently in every moment.The hotels during the whole trip have been very comfortable and nice. The driver Pawan has been on time,and polite ,perfect driver.....

Mr. Albert Roig ,Spain
India Tour Packages