The Leela, Udaipur
Resort Overview
Location :on the banks of Lake Pichola, Udaipur
Star Rating : 5 Star Hotel
Amenities : Front Desk, Bar, Restaurant, Lounge, Coffee Shop, Ball room ....
Total Rooms : 80 Rooms
Facilities : Laundry, Medical, Boutiques, Currency Exchange, Express Check-In,.

About The Leela
The elegant and contemporary interiors of the rooms and suites at The Leela Palace Udaipur are embellished with traditional elements of Rajasthan design and artistry. With a lake facing pool, spa and an array of restaurants and superlative lounges, the palace provides a fairy tale setting for a royal Mewar experience.
Location
For centuries, visitors have marvelled at the royal splendour of Udaipur's magnificent palaces and forts. The Leela Palace Udaipur is a jewel on the banks of the majestic Lake Pichola offering stunning views of the lake, City Palace and the Aravalli mountains. The hotel exemplifies Rajasthani palace architecture and evokes the grandeur of Udaipur's rich and royal heritage.
Amenities
High definition LCD TV with a Blu‐ray player, Bose iPod dock, Broadband wireless high speed internet (Chargeable) Electronic safe, A gourmet corner with fine selection of spirits, soft beverages and snacks, Selection of fine teas, French press coffee maker, espresso machines in suites, Outdoor swimming pool with Jacuzzi, Yoga and meditation studio, Heritage walk, Bocce, Croquet
Services
Round the clock butler service, In‐room dining, Laundry and dry cleaning, Clefs d'or recognized concierge services, Wake‐up call service, Doctor on call, Marwar Ballroom with a large open terrace, Mewar Ballroom, 4 meeting rooms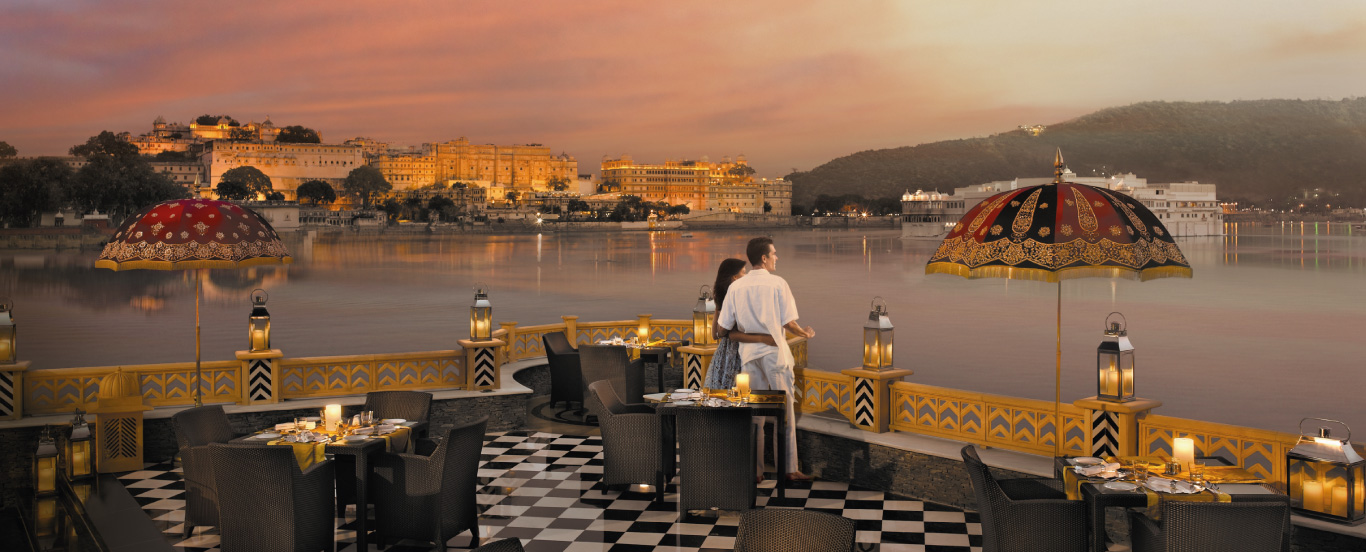 Rooms
Grand Heritage Lake View rooms at The Leela Palace Udaipur come with the daily newspaper, Wi-Fi internet connectivity, an LCD television with Blu-Ray players and in-room electronic safes. Take some time out to enjoy a refreshing swim in our azure pool or relax in our spa by ESPA.You may even head out to our fitness centre for a good round of workout. Some of these rooms are attached with a balcony, offering a panoramic view of the mountains in the horizon.Look out at the breath-taking view of the majestic Aravalis towering over the tranquil Pichola Lake. Stay in either the Lake wing or the Palace wing, and in addition to amenities that cater to the astute modern-day traveller,the rooms you walk into have elegant, contemporary interiors adorned with traditional Rajasthani art and craftworkby local artisans, and exquisite fabrics embroidered with regally inspired designs. Even our furniture is embossed with tarkashi work, a popular art form involving intricate brass wires, strips and motifs set in dark wood.
Dinning
The Dining Room ‐ International cuisine, Sheesh Mahal‐Fine‐dining, Indian restaurant Walkin wine cellar at The Dining Room, The Library Bar ‐ Time refined cognacs and single malts
SPA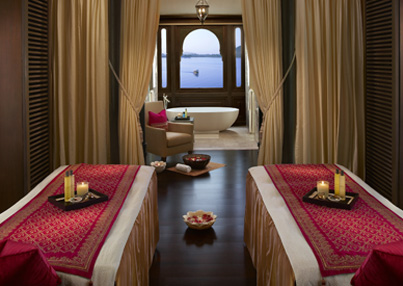 In the heart of the historic city of Udaipur, overlooking the idyllic Lake Pichola preside The Leela Palace, a window to the ancient and modern world. Splendour, beauty and decadence awaits; enjoy majestic architecture, opulent and lavish hospitality and experience the essence of ESPA at The Leela Palace, Udaipur. ESPA has created a personal spa experience encompassing outstanding treatments that uniquely reflect a fusion of the latest scientific advances with Ayurvedic and European therapies. Together with the award winning ESPA range, the exceptionally natural, high quality skin care products, anti- stress oils, revitalising seaweeds and cleansing muds, all achieve outstanding results to restore balance and equilibrium to mind and body.
View more pictures on Spa click here....
We chose TSI because they are experts in trips for all ASIA. We planned our honeymoon over Sri LANKA and Maldives with them because they give the best tips, value, conditions, hotels and service for the trip. You have a choffer exclusively for you during all trip, and drop you in the best restaurants, shops and places. choosing TSI is choosing quality rigor, seriousness, profesionalness. .......

Guillermo Pombo ,SPAIN

I have travelled to India with TSI many times because I have full confidence in their superior communication ability to understand my requirements. They are able to make suggestions and answer queries without fear or favour which is very valuable when I organise my small group tours and need their expertise. They have a great team of experienced and young agents who are efficient and empathetic to general enquiries and are always there to support me when I am on tour. Whether emailing from Australia or phoning from India I consider them an integral part of my tour operation. I thank them all most sincerely and congratulate them for a superior and high standard of work and friendship..........

Marnie Barter ,Melbourne, Australia

We had a marvelous trip to India with TSI. All arrangements like hotel, driver, sightseeings etc. that were organized by them were perfect. On a regular base during our trip the head office of TSI called us to inform if we were still satisfied by the services they provide. And yes, of course we were. Thanks TSI for the gift of a perfect memory.........

John Bregman ,NETHERLANDS

It was an amazing trip. I feel very comfortable and safe with my driver and guides. My guides were warm, welcoming and very knowledgeable. My appreciation for India has increased immensely. I will be returning to India next year and will use TSI's services again. .........

Robin Everett ,USA

Just a short message to tell you that we are now back to France, after our wonderful stay in India. Everything was so well organized, we were very satisfied with the services of the drivers and guides, and we were happy about our intensive visiting program. We are really fascinated by your beautiful country.........

Mihaela and Cornelia ,France

A very well organised roundtrip through a beautiful country. Nice excursions and still plenty of free time. Very good and friendly driver, who was giving us a lot of extra information and showed us the most beautiful places. India was a very holiday for us thanks to TSI......

Nico van der Sluijs ,NETHERLANDS

It has been a great experience for us to visit india .All trip has been well organized and it has covered our expectations .You(Travel Spirit international) are A very good travel agency and we will comment it to our country's travel agency. We have been assisted excellently in every moment.The hotels during the whole trip have been very comfortable and nice. The driver Pawan has been on time,and polite ,perfect driver.....

Mr. Albert Roig ,Spain
India Tour Packages