Vanyavilas, Ranthambhor
Resort Overview
Location :7 km from National Park, 185 km from Jaipur City .... Star Rating :
Total Rooms :25 Luxury Tents
Amenities :Heated swimming pool and jogging track, Private therapy rooms.....

About
The Resort is located adjacent ot the famous Ranthambhore Tiger Reserve. Though the tigeris an elusive animal, sightings in the reserve are frequent. president Bil Clinton, during his visit to India in March 2000, saw two tigers at Ranthambhore in a single day. Vanyavilas is the first luxury jungle resort in India. The resrot consists of luxury air-conditioned tents located discreetly so as to ensure maximum privacy. The tents, restaurant, bar etc. occupy only 5% of the site, thus maintaining its natural beauty. The Ranthambhore Tiger Reserve has a large variety of flora and fauna..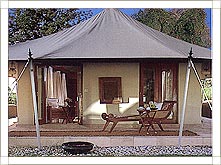 Description Of Vanyavilas, Ranthambhor
The resort has been designed as a Jungle camp and is adjacent to the famous Ranthambhore Tiger Reserve. Despite the fact that the tiger is elusive, the sightings in the Reserve are very frequent. President Clinton, on his recent visit to India, had two sightings in a few hours. Vanyavilas will be the first luxury jungle camp in India. The accommodation will consist of 25 luxury air-conditioned tents which are located discreetly on the site to ensure maximum privacy. The Site presently has many trees and extensive natural flora. The total area of the resort is 20 acres. Only 5% of the land area is being built upon so that the natural beauty of the site is maintained.
Location of Vanya Vilas, Ranthambore
Located just 7 kms from the Park & 185 kms from Jaipur City, Ranthambore is heaven for Wildlife & Tiger lovers. The 392 sq.km park comprises of dry deciduous forest sprawling over the undulating terrain of the Arvalli and Vindhaan ranges. The park is one of the finest tiger reserves in the country under the project tiger.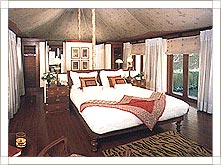 The resort can be accessed by road from Delhi with an approximate travel time of 8 hours. There are direct rail and road links from Jaipur to the reserve with a travel time of 3 hours and 2 1/2 hours respectively. Jaipur Airport - 190 kms, Sawai Madhopur Railway Station - 8 kms, Delhi - 380 kms, Agra - 270 kms.
Facilities at Vanya Vilas, Ranthambore
Personal Bar, Satellite Television, In-house Laundry, Dry Cleaning, Complimentary Fresh Fruit & Flowers, Mineral Water, Newspapers
Amenities at Vanya Vilas, Ranthambore
Heated swimming pool and jogging track, Private therapy rooms to rejuvenate mind, body and soul, a games room and lecture room for films and talks on wildlife, an amphitheater for live performance, a watch tower, small meeting room for 5 persons, in-house laundry and dry cleaning, Travel Desk and currency exchange.
Accomodation
Each air-conditioned tent has an area of 790 square feet. Spacious, beautifully appointed interiors with teak wood flooring. Large well appointed marble bathrooms with free standing bathtubs, separate shower stalls and double vanity counters. Private deck for sun bathing and outdoor dining.
Recreation Facilities at Vanya Vilas, Ranthambore
Extensive Health and Fitness Centre featuring State - of - the - art gym with 'Technogym' equipment and 'Cardiotheatre' with additional 'ladies only' gym, Aerobic studio with trainers, Sauna and stream rooms, jacuzzi, Turkish Hamams, Vichy shower and a variety of water based relaxation treatments, Oriental Ayurvedic and Swedish therapeutic massage; relaxation treatments in the privacy of a suite, Outdoor swimming pool ( 130 m length ), Two outdoor, clay surface tennis courts, Two squash courts, Jogging Track, Snooker, Billiards and American pools tables.
Guests enter the spa past flower-filled water bodies, under Mughal archways into a sunlit courtyard whose private therapy rooms overlook a lush, green lily pond. Use of natural, plant based, professional spa products and offer Oberoi signature therapies, Ayurvedic massage and holistic beauty rituals for ladies, gentlemen and couples to enjoy. Small group yoga sessions are held in the outdoor pavilion. Private sessions can also be organized for guests' convenience. The only temperature controlled pool in Ranthambore. It is fringed by manicured lawns, lush green trees and vibrant native flowers. Guests may take a dip in the azure waters, lie back under the shade of a parasol or enjoy a light poolside snack served by our dedicated waiting staff.
View more pictures on Spa click here....
We chose TSI because they are experts in trips for all ASIA. We planned our honeymoon over Sri LANKA and Maldives with them because they give the best tips, value, conditions, hotels and service for the trip. You have a choffer exclusively for you during all trip, and drop you in the best restaurants, shops and places. choosing TSI is choosing quality rigor, seriousness, profesionalness. .......

Guillermo Pombo ,SPAIN

I have travelled to India with TSI many times because I have full confidence in their superior communication ability to understand my requirements. They are able to make suggestions and answer queries without fear or favour which is very valuable when I organise my small group tours and need their expertise. They have a great team of experienced and young agents who are efficient and empathetic to general enquiries and are always there to support me when I am on tour. Whether emailing from Australia or phoning from India I consider them an integral part of my tour operation. I thank them all most sincerely and congratulate them for a superior and high standard of work and friendship..........

Marnie Barter ,Melbourne, Australia

We had a marvelous trip to India with TSI. All arrangements like hotel, driver, sightseeings etc. that were organized by them were perfect. On a regular base during our trip the head office of TSI called us to inform if we were still satisfied by the services they provide. And yes, of course we were. Thanks TSI for the gift of a perfect memory.........

John Bregman ,NETHERLANDS

It was an amazing trip. I feel very comfortable and safe with my driver and guides. My guides were warm, welcoming and very knowledgeable. My appreciation for India has increased immensely. I will be returning to India next year and will use TSI's services again. .........

Robin Everett ,USA

Just a short message to tell you that we are now back to France, after our wonderful stay in India. Everything was so well organized, we were very satisfied with the services of the drivers and guides, and we were happy about our intensive visiting program. We are really fascinated by your beautiful country.........

Mihaela and Cornelia ,France

A very well organised roundtrip through a beautiful country. Nice excursions and still plenty of free time. Very good and friendly driver, who was giving us a lot of extra information and showed us the most beautiful places. India was a very holiday for us thanks to TSI......

Nico van der Sluijs ,NETHERLANDS

It has been a great experience for us to visit india .All trip has been well organized and it has covered our expectations .You(Travel Spirit international) are A very good travel agency and we will comment it to our country's travel agency. We have been assisted excellently in every moment.The hotels during the whole trip have been very comfortable and nice. The driver Pawan has been on time,and polite ,perfect driver.....

Mr. Albert Roig ,Spain
India Tour Packages