Raas Devigarh Spa Resort, Udaipur
Resort Overview
Location : Situated 26 kms North-East of Udaipur.
Star Rating :Heritage
Total Rooms : 23 Rooms
Amenities :Front Desk, Bar, Restaurant, Lounge, Coffee Shop, ....
Servicies : Laundry, Medical, Boutiques, Currency Exchange, Express Check-In,...

About Devigarh Spa Resort
Tucked away in the age-old Aravali hills of Rajasthan, the 18th century Devi Garh Fort Palace, in the village of Delwara commands one of the three main passes into the valley of Udaipur. Sajja Singh, who hailed from the neighbouring state of Gujarat, was awarded this strategically significant principality, in recognition of his bravery and loyalty to Maharana Pratap against the Mughal emperor Akbar, at the battle of Haldighati (1576). The actual construction of the fort palace started only in the 1760s, under Raghudev Singh II, with further additions being made to the structure by the rulers who followed. The palace was absorbed into the state of Rajasthan in the 1960s, and was subsequently abandoned.
Location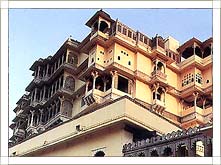 Situated 26 kilometers North-East of Udaipur, Devi Garh is a convenient 45 minutes' scenic drive from the city. The fort, surrounded by lush green fields and mountains on three sides, overlooks the village of Delwara and is close to the temples of Eklingji and Nagda. The combination of a traditional Rajasthani village, the towering fort and the temples, makes for an interesting mix.
Udaipur is easily accessible via air from Delhi or Mumbai, with convenient road and rail connections too. Local taxis are easily available from the airport or train station to transport guests to Devi Garh. Alternatively the hotel can organise a car to pick up the guests upon their arrival at Udaipur, if they so desire.
Amenities
Front Desk, Bar, Restaurant, Lounge, Coffee Shop, Room Service, Room-Service 24 Hours, Handicap Facilities, Jacuzzi, Sauna, Meeting Facilities, Non Smoking, Satellite TV
Services
Laundry, Medical, Boutiques, Currency Exchange, Express Check-In, Express Check-Out, Front Desk-24 Hours, Guest Laundromat, Luggage Storage, Wake up service.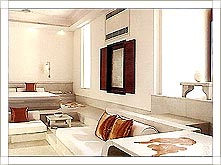 Rooms
All of the 23 suites at Devi Garh are unique; luxurious and beautiful, yet equipped with the most modern of conveniences to make a guest feel totally at home. Most suites include an individual terrace or garden. The premium suite, called the Devi Garh suite, has a swimming pool and a jacuzzi, of its own. Each suite is embellished with marble and semi-precious stones, while the public spaces are designed around different metals. Six tents are also available on request from October to March.
Each room at Devi Garh is a compact accommodation unit in itself, offering;Private dining areas Minibar Air-conditioning and heating In-room safe Marble Bathtub Individual shower cubicle CD Player Satellite Television.
Devigarh offers a world-class spa with a heart, run by authentic British brand Ila. An old Sanskrit word denoting Mother Earth and her ever flowing curative energy, the sacred essence of ila is echoed through age-old beauty rituals, the rejuvenating power of touch, and divine smells chosen to promote biological change and harnessed from an incredibly rare level of organic purity. Renowned for their earth-to-skin ethical, environmental and sustainable practices, Ila directly source wild harvested ingredients, many from India herself. Enjoy Rajasthani damascene rose Otto oil, jasmine from Tamil Nadu, sandalwood from Mysore and tuberose - which helps to connect us to our soul light – from Himachal. Each is chosen for its ability to nourish not just the skin but the heart.

Devi Garh, away from the stress of the city, is a perfect place to optimize your well-being. We aim to soothe your body, stimulate your mind strengthen your spirit.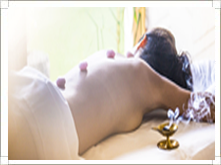 Combined with the gymnasium, steam, sauna, jacuzzi, and beauty parlour, we offer something more profound: complete Ayurvedic therapies. Ayurveda is a traditional Indian form of Holistic medicine, which has been handed down over the centuries by ancient physicians. This gentle science, using natural remedies has evolved a system of complete healthcare. Our therapists use medicated oils and herbal pastes for different therapies- ranging from relaxing massages to complex treatments.
For the renewal of your energies, one needs an environment of total harmony to reach inner peace. The calming effects of our white rooms is further enhanced by experiencing Yoga (control on the body, breath and mind) and Dhyana (meditation) on the ramparts of the Palace, at the time of sunrise. Throughout your stay healing powers of the enveloping silence is broken occasionally by the sounds of running water in the courtyards.
Make your holiday a complete one. Leave rejuvenated and refreshed; with your individual self in harmony with the universal self.
View more pictures on Spa click here....
We chose TSI because they are experts in trips for all ASIA. We planned our honeymoon over Sri LANKA and Maldives with them because they give the best tips, value, conditions, hotels and service for the trip. You have a choffer exclusively for you during all trip, and drop you in the best restaurants, shops and places. choosing TSI is choosing quality rigor, seriousness, profesionalness. .......

Guillermo Pombo ,SPAIN

I have travelled to India with TSI many times because I have full confidence in their superior communication ability to understand my requirements. They are able to make suggestions and answer queries without fear or favour which is very valuable when I organise my small group tours and need their expertise. They have a great team of experienced and young agents who are efficient and empathetic to general enquiries and are always there to support me when I am on tour. Whether emailing from Australia or phoning from India I consider them an integral part of my tour operation. I thank them all most sincerely and congratulate them for a superior and high standard of work and friendship..........

Marnie Barter ,Melbourne, Australia

We had a marvelous trip to India with TSI. All arrangements like hotel, driver, sightseeings etc. that were organized by them were perfect. On a regular base during our trip the head office of TSI called us to inform if we were still satisfied by the services they provide. And yes, of course we were. Thanks TSI for the gift of a perfect memory.........

John Bregman ,NETHERLANDS

It was an amazing trip. I feel very comfortable and safe with my driver and guides. My guides were warm, welcoming and very knowledgeable. My appreciation for India has increased immensely. I will be returning to India next year and will use TSI's services again. .........

Robin Everett ,USA

Just a short message to tell you that we are now back to France, after our wonderful stay in India. Everything was so well organized, we were very satisfied with the services of the drivers and guides, and we were happy about our intensive visiting program. We are really fascinated by your beautiful country.........

Mihaela and Cornelia ,France

A very well organised roundtrip through a beautiful country. Nice excursions and still plenty of free time. Very good and friendly driver, who was giving us a lot of extra information and showed us the most beautiful places. India was a very holiday for us thanks to TSI......

Nico van der Sluijs ,NETHERLANDS

It has been a great experience for us to visit india .All trip has been well organized and it has covered our expectations .You(Travel Spirit international) are A very good travel agency and we will comment it to our country's travel agency. We have been assisted excellently in every moment.The hotels during the whole trip have been very comfortable and nice. The driver Pawan has been on time,and polite ,perfect driver.....

Mr. Albert Roig ,Spain
India Tour Packages