Udayvilas, Udaipur
Resort Overview
Location :26 kms from the airport, located on the banks of the Lake Pichola. Star Rating :
Total Rooms : 91 Rooms
Amenities : Restaurant, World-class Spa, Swimming Pools, Bar, Private Helipad.....

About
Located on the famous Pichola Lake, has been designed as a traditional Rajasthani Palace. The resort is set in thirty acres of beautifully landscaped gardens, decorative fountains and pavilions, giving it a genuine Rajasthani ambiance. Many of the guest rooms have uninterrupted views of the Pichola Lake and City Palace. Udaivilas offers the same standards of luxury, service and comfort, guests have come to expect at Rajvilas, Jaipur and Amarvilas, Agra. The hotel is an ideal base from which to explore the fabled city of Udaipur, renowned for its palaces, lakes and colourful bazaars.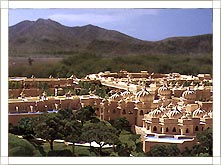 Description Of Udayvilas, Udaipur
Hotel Udaivilas is located on the banks of Lake Pichola and is a 40 minute-drive from Udaipur's Dabok airport. The Oberoi Group's new Luxury Resort and Spa encompasses 30 acres of manicured gardens and courtyards. Designed as a Mewari palace, the resort recreates the luxurious ambience of a royal residence, complete with decorative water bodies and carved stone pillars.
The Spa Menu includes holistic non-clinical treatments ranging from ancient Ayurveda to aromatherapy. The resort adjoins a 20-acre wildlife conservatory which houses Indian spotted deer, wild boar and peacocks.
Location of Udaivilas, Udaipur
26 kms from the airport, located on the banks of the Lake Pichola.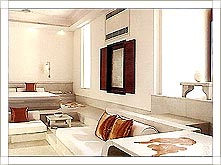 Facilities at Udaivilas, Udaipur
Room Service H/C Running water, Telephone, TV, Private butler service, In-house laundry and dry cleaning, Complimentary fruit and flowers, mineral water and newspapers, 24 hour in-room dining.
Amenities at Udaivilas, Udaipur
Restaurant, World-class Spa, Swimming Pools, Bar, Private Helipad, Ayurvedic Center, Tennis Court, Doctor on Call, Money Exchange, Safe Deposit, Credit Cards, Jogging Track.
Accomodation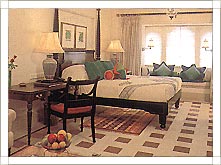 At the first level are sixty-three richly appointed deluxe rooms, all with private walled courtyards, complete with silken parasols, table and chairs. Inlaid furniture, Rajput inspired decoration and marble bathrooms help to create a luxurious haven for our guests.
Nineteen superior deluxe rooms open onto the beautiful semi-private moated pool that meanders past the terraces. From here guests overlook either Lake Pichola or the wildlife sanctuary at the rear of the hotel.
Higher up, the Luxury Suites, Great Mogul, Orloff and Regent, each 1,150 sq ft, have private infinity pools and tented dining pavilions. These suites have an unrivalled view of the City Palace horizon - and a telescope! Here you will enjoy the privilege of private staff - your very own butler.
The jewel in the Udaipur crown is the Kohinoor Suite, 2,650 square feet of palatial comfort. With its fountained courtyards, massive private pool, sitting room with real fireplaces, and master suite with its own wooden sauna it is fit for Royalty.
Recreation Facilities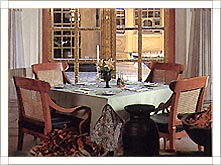 Udaivilas has two restaurants, Suryamahal and Udaimahal, the speciality Indian Restaurant. Executive Chef Jean Christophe Basseau aims to satisfy every palate with the very best of International and Indian cuisine. The informal 30s style Suryamahal is open all day. The menu here is a fusion of light Western, Mediterranean and Thai style dishes. Chandni, the courtyard for open air dining, hosts evenings of traditional Indian music and dance. At Udaimahal, guests dine by candlelight on a rich variety of traditional, Rajasthani and North Indian fare in regal surroundings.
It is also possible to lunch around the main swimming pool or in the Spa Courtyard. Or there's the option of ordering round the clock from the privacy of your room, suite or private dining pavilion. More adventurous guests can take a picnic lunch basket onto a private gondola. Or even, most decadent of all, take a party of friends to cocktails or dinner on the Bhagwanti Royal Barge, floating to the islands across Lake Pichola. You will eat like a Maharana. The Udaivilas chefs trained directly under the few chefs to royalty that exist in Rajasthan today. The cosy bar offers a fine selection of wines, spirits and cigars.
Spa at Udaivilas, Udaipur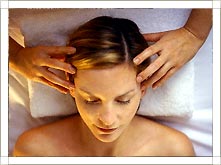 The professionally run non-clinical Spa has private therapy suites. An oasis of tranquility, a sanctuary where you can balance mind, body and soul. A selection of treatments ranging from Ayurveda to aromatherapy.The Oberoi Banyan Tree Spa resembles a miniature-domed palace painted to evoke heaven. From its large airy treatment suites, guests can gaze across the pool through a cusped arch to the lake beyond.
Opportunities for swimming - or just floating - abound here. Either in your own private pool or in one of two striking swimming pools, beautifully tiled and terraced. Both are heated in winter. The state of the art gym is fully equipped to burn off any excess calories that might have come on board. The prevailing mood, however, tends towards the more passive delights of a deep massage.
The driver Krishna was outstanding, polite, well-dressed and very patient. The road conditions were hazardous at times, but he negotiated them very capably. This is the second time I have used your company and I am extremely satisfied with your service. I will continue to recommend your company to colleagues visiting India and will be in touch for my next trip.......

said Randy Bindra, USA travelled through us from 04 Mar. to 09 Mar. 2013

We would like to thank you and your colleagues for a very well organised three week holiday. We thoroughly enjoyed it and everything worked very well. The overnight on the houseboat was a wonderful experience, it was such a change from being on the busy road, and to have the peace, silence and tranquillity for nearly 24 hours was indeed very nice. So, we can also recommend that and the two crew were very good indeed, and we thoroughly enjoyed the meals they provided for us. It was really good experience..........

said Ketty Tomes, UK travelled through us from 28 Jan. to 17 Feb. 2013

Thank you very much for great trip in India. My 4th trip to India has made that I'm more addicted to India than I was before (I thought that I couldn't be more addicted but I was wrong). I tell only positive things to all my friends about my trip and TSI. Maybe my girl friend decides to visit South India with 3 other girls. I also look forward to visit Ladakh and Kashmir.........

said Robert, Poland travelled through us from 29 Jan. to 13 Feb. 2013

Dear Manoj,
Everyone is safely home again after our spice discovery tour, and we can definitely consider it one of our successes. Once again you won everyone's hearts with your thoughtfulness and thoroughness in all our activities. I don't know how we would have coped with the flight cancellations between Udaipur and Madurai if you had not been there to sort it out! ..............

said Liz and Ian, Australia travelled through us from 13 Jan. to 29 Jan. 2013

Dear Manoj,
Our tour of your wonderful country was fantastic. I was returning, after 36 years, but it was Helen's first time and she loved every minute of the amazing journey. Our precious eighteen days seemed to stretch - there was so much to see and do! Each night we went to bed tired, and occasionally exhausted. And so, we really appreciated the extra effort made by all the Indian hotels to provide us with additional length in our double beds. Thanks you for making those arrangements. We were always very comfortable at night so we woke up refreshed, ready to enjoy the delights of the next day.........

said Helen & Richard Walker, Australia travelled through us from 13 Jan. to 29 Jan. 2013

We just want to thank for the amazing service provided to us. We are very happy and impressed with all assistance and support you gave us during the whole trip......

said Manha Cleusa, Brazil travelled through us from 22 Oct. to 02 Nov. 2012

We have enjoyed our trip to India and will certainly recommend TSI to any friends who wish to visit your beautiful country.....

Dr. Chanvit, Thailand travelled through us from 11 Feb. to 20 Feb. 2012