Spice Village Resort in Periyar
Resort Overview
Location :140 kms. from Airport, 108 from Railway Station .... Star Rating : 4 Star
Total Rooms :52 Rooms
Amenities : Room Service, H/C Running Water, Telephone TV ....

About
Set in the heart of the Cardamom Hills of Kerala, Spice Village is an unprecedented tourist destination, offering a rare opportunity to enjoy South India's wildlife and beauty. The village lies just outside Periyar Tiger Reserve, and a stay here is the perfect way to appreciate and respect the environment. This is a place for everyone who loves nature: somewhere to fill your lungs with fresh mountain air, to savour the rich fragrance of cinnamon and cloves, to watch young elephants drinking at the water's edge. The resort itself provides every comfort the modern traveller could wish for - luxurious accommodation, mouth-watering cuisine, and an exclusive swimming pool.
Recreating the mood of the local tribal community, our architects have designed individual cottages amongst a landscaped spice garden. Each dwelling is thatched with elephant grass and offers simple luxury and privacy. Throughout the village, the atmosphere is relaxed and enchanting. We can arrange for an exhilarating water safari across Lake Periyar, a visit to a nearby coffee plantation, even a trek deep into the tropical forest.
Description Of Spice Village, Periyar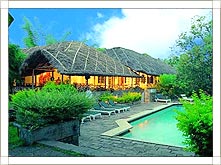 Spice Village is in Kumily, a small settlement three kilometres from Thekkady, the main entrance to the Periyar Tiger Reserve. The design of each cottage was inspired by the native tribesmen of Periyar, the Oorali and Mannan, who lived in similar dwellings. Infact, one of the cottages currently being used as an office, is an original tribal hut which has been modified. A number of creature comforts have been added, however, to make your stay a luxurious one.
Location of Spice Village, Periyar
140 kms. from Airport, 108 from Railway Station
Seasons
Jan - Mar: Cool, dry
April - May: Summer
June - August: Monsoon
Sept - Dec: Pleasant, dry


Things to do
Boat ride in Periyar lake, trekking in Periyar forest, Tiger reserve, spice plantation visit, 'Learn to cook with spices'.
Facilities at Spice Village, Periyar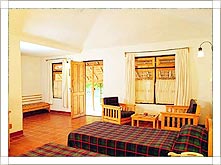 Room Service, H/C Running Water, Telephone, TV, Channel Music, Safe Deposit, Swimming pool, badminton, tennis, Ayurveda Centre & indoor games, Regular doctors on call.
Accomodation at Spice Village, Periyar
The rooms are spacious and furnished with simple sophistication: terracotta tiled floors, wooden beds and chairs, and whitewashed walls. ( To preserve the environment, the furniture has been crafted using pine from Cochin's historic docks. ) There is also a telephone, a fan, an en suite bathroom with hot running water, and an efficient laundry service. A verandah runs round the entire cottage, and each dwelling is set in its own land. At the centre of the village is a swimming pool, surrounded by tropical trees and lawns.
The Village offers many other facilities, including a conference hall and games room, complete with table tennis, caroom and chess boards, and a floodlit outdoor badminton court. The highlight, though, is the garden itself, bursting with a rich array of spice trees. Each plant is carefully marked ( giving the English and Latin names ), and there is a botanist at hand to answer any question.
Leisure Activities at Spice Village, Periyar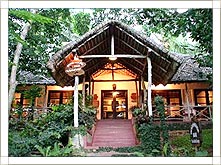 The accommodations combined together with the virginal beauty of nature, delicately cascades to an immaculate beach exclusively enjoyed by Somatheeram. Somatheeram Ayurvedic Beach Resort is packed with fun and activities; like indoor games, fishing, boating, cultural programmes etc.
Water Safari : There are several ways to explore the Periyar Tiger Reserve. The most popular is by boat, which allows visitors to watch animals drinking at the lakeside. Two hour trips are booked at the Spice Village, and the best chance of sighting animals is in the early morning or at dusk. It's an eerie sensation passing by the forest branches which poke out from the water, stretching through the mist like dead men's fingers. Many animals come to the water's edge and it is one of the few places in the world where elephants can be observed at close quarters from the safety of a boat.
Forest Treks : It can be arranged for you to venture deep into the tropical forests. Accompanied by a tribal guide, you will be dropped off by boat at the far end of the lake, from where you proceed on foot, quickly leaving behind the crowds. It is only safe to travel at certain times of the day, but your guide will know more about the jungle than the wild animals which roam the savannah grasslands and woods.
Cookery Demonstration : For those who want more than just a taste of the delicious Kerala cuisine, cooking classes are held by the Chef every evening. You get to see for yourself how the dishes are so carefully made. You could also try your hand with the earthenware pots and pans and make your own variation of the Kerala savouries.
The Kerala fish curry, appam, avial, etc. have a very exotic flavour. The method of preparation is so different that it makes Kerala cuisine very distinct and liked by all. Enough reasons to watch, learn and try for yourself.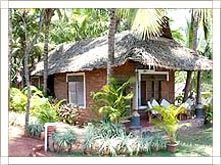 Spice Village Ayurvedic Center
Spice Village has an exclusive Ayurvedic clinic, well-equipped for treatments like Pizhichil, Njavarakizhy, Dhara and other natural therapies.

The resort is built using tribal concept and architectural style but well equipped with all modern amenities for the tourists coming from all over the world. The resort provides a combination of Ayurveda, Yoga and Meditation that works well for the physical, mental and spiritual development of human beings. It offers various authentic Ayurvedic treatments for rejuvenation and wellness.

Ayurveda, the Science of Life, is almost as old as the Indian civilisation. It's holistic approach, the efficacy of its therapies and the absence of distressing side affects are some of its more salient features. Throughout the world there is a rising awareness of the benefits of natual health systems. Health in the ayurvedic view represents the Harmony of body, mind and soul. It's pharmacopia is nature herself and its diagnostic and curative tools have been derived from the invaluable legacy of insights, experience and knowledge bequeathed to posterity by its great masters. It is based on natural principles that inform and animate human life. The Spice Village offers the following therapies at it's Ayurvedic Centre under the guidance of an expert " vaidyan " ( physician ) whom you may consult for a fuller understanding of symptoms and appropriate treatment. It is well equipped with a dispensary and qualified resident staff.
We chose TSI because they are experts in trips for all ASIA. We planned our honeymoon over Sri LANKA and Maldives with them because they give the best tips, value, conditions, hotels and service for the trip. You have a choffer exclusively for you during all trip, and drop you in the best restaurants, shops and places. choosing TSI is choosing quality rigor, seriousness, profesionalness. .......

Guillermo Pombo ,SPAIN

I have travelled to India with TSI many times because I have full confidence in their superior communication ability to understand my requirements. They are able to make suggestions and answer queries without fear or favour which is very valuable when I organise my small group tours and need their expertise. They have a great team of experienced and young agents who are efficient and empathetic to general enquiries and are always there to support me when I am on tour. Whether emailing from Australia or phoning from India I consider them an integral part of my tour operation. I thank them all most sincerely and congratulate them for a superior and high standard of work and friendship..........

Marnie Barter ,Melbourne, Australia

We had a marvelous trip to India with TSI. All arrangements like hotel, driver, sightseeings etc. that were organized by them were perfect. On a regular base during our trip the head office of TSI called us to inform if we were still satisfied by the services they provide. And yes, of course we were. Thanks TSI for the gift of a perfect memory.........

John Bregman ,NETHERLANDS

It was an amazing trip. I feel very comfortable and safe with my driver and guides. My guides were warm, welcoming and very knowledgeable. My appreciation for India has increased immensely. I will be returning to India next year and will use TSI's services again. .........

Robin Everett ,USA

Just a short message to tell you that we are now back to France, after our wonderful stay in India. Everything was so well organized, we were very satisfied with the services of the drivers and guides, and we were happy about our intensive visiting program. We are really fascinated by your beautiful country.........

Mihaela and Cornelia ,France

A very well organised roundtrip through a beautiful country. Nice excursions and still plenty of free time. Very good and friendly driver, who was giving us a lot of extra information and showed us the most beautiful places. India was a very holiday for us thanks to TSI......

Nico van der Sluijs ,NETHERLANDS

It has been a great experience for us to visit india .All trip has been well organized and it has covered our expectations .You(Travel Spirit international) are A very good travel agency and we will comment it to our country's travel agency. We have been assisted excellently in every moment.The hotels during the whole trip have been very comfortable and nice. The driver Pawan has been on time,and polite ,perfect driver.....

Mr. Albert Roig ,Spain
India Tour Packages