Moksha Himalaya Spa Resort
Resort Overview
Location :3.5 hours from New Delhi/ 35 minutes from Chandigarh International Airport Star Rating :5-star
Total Rooms : 62 Suites
Amenities :Yoga Pavilions, Infinity Pool, Beauty Salon, Resort Shop, Heated Jacuzzis, Fitness Centre, Library, Jogging Route, Spa Rooms

About
Tucked amidst the serene surroundings of Himachal Pradesh, Moksha Himalaya Spa Resort can be reached from New Delhi in 3 1/2 hours and from Chandigarh International Airport in 35 minutes.
This unique spa resort in India is a new addition to the Centara boutique collection. Reaching this place is more than fun as you need to take a short cable car ride. During this ride, the views of verdant Shivalik valley covered with pine trees look simply mesmerizing. Adventure junkies can explore plenty of trekking opportunities here, while nature lovers can take part in relaxing recreational activities
Description
Amidst the panoramic wonders of the Himalayan Mountain Range, Moksha Himalaya Spa Resort is an ideal sight created by the Centara group. You can reach here by air or train from New Delhi and Mumbai. Many guests consider this resort a perfect spa destination. For business guests, it is an exotic business location where small meetings of up to 250 guests can be smoothly arranged.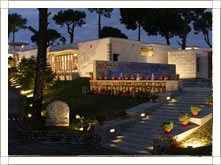 Location
1/2 hours journey and from Chandigarh International Airport, it takes about 35 minutes to reach.
Facilities
Transportation & Cable Car Services, Laundry, Tour Desk, 24 Hour Room & Concierge Services, International Newspaper & Magazines, Medical Services and Evening Turn Down Service.
Amenities
6 Yoga Pavilions, Outdoor heated Infinity Pool, Beauty Salon, Resort Shop, 2 Outdoor Heated Jacuzzis, Fitness Centre, Library, Jogging Route, Wireless and Internet Access, Business Center and Kids Club.
Dining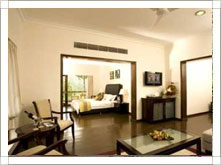 Moksha Himalaya Spa Resort in Himachal Pradesh is a great place for wining and dining. For lunch and dinner, you can drop in at the all-day dining venue Moksha Terrace Restaurant. Here, you can order anything from Indian, Asian to International cuisines and enjoy the soothing surroundings of Himachal Pradesh. The Moksha Bar & Lounge is a perfect place for light refreshments, snacks, wines and cocktails. If you want to taste health cuisine, snacks and light refreshments, visit the Terrace Pool Bar & Pavilion. The place can seat upto 40 guests at a time.
Accommodation
This exquisite spa resort is composed of 15 colonial buildings, all located at short distance away from each other. There are 62 Moksha Suites to choose from. Each suite has been designed to provide comfort and luxury to guests. They boast of elegant wooden and stone finishes. Private terrace, large beds, individual lounge area and spacious bathrooms are the special highlights of these accommodations. During leisure time, guests can turn on their LCD television set to watch entertainment shows of their choice or simply soak in the pristine beauty of Himalayan ranges. Mini bar and tea/ coffee services are also available in rooms.
Ayurveda
At this resort, you will come across a fascinating Moksha spa destination called the SPA Cenvaree. This destination offers you rejuvenating therapeutic massages, ancient aromatherapy and treatments. It has a total of 12 treatment rooms dedicated to this purpose. Turkish Hammam, infrared sauna, vichy rain shower, herbal steam bath, whirlpool, Jacuzzi and lap pool are some of the integral spa facilities for you. If you want, you can also pay a visit to Thai Massage Sala, Foot Massage Sala and Spa boutique of this resort. In addition, there are 6 Yoga & Meditation Pavilions. You can explore these venues for peaceful moments.
We chose TSI because they are experts in trips for all ASIA. We planned our honeymoon over Sri LANKA and Maldives with them because they give the best tips, value, conditions, hotels and service for the trip. You have a choffer exclusively for you during all trip, and drop you in the best restaurants, shops and places. choosing TSI is choosing quality rigor, seriousness, profesionalness. .......

Guillermo Pombo ,SPAIN

I have travelled to India with TSI many times because I have full confidence in their superior communication ability to understand my requirements. They are able to make suggestions and answer queries without fear or favour which is very valuable when I organise my small group tours and need their expertise. They have a great team of experienced and young agents who are efficient and empathetic to general enquiries and are always there to support me when I am on tour. Whether emailing from Australia or phoning from India I consider them an integral part of my tour operation. I thank them all most sincerely and congratulate them for a superior and high standard of work and friendship..........

Marnie Barter ,Melbourne, Australia

We had a marvelous trip to India with TSI. All arrangements like hotel, driver, sightseeings etc. that were organized by them were perfect. On a regular base during our trip the head office of TSI called us to inform if we were still satisfied by the services they provide. And yes, of course we were. Thanks TSI for the gift of a perfect memory.........

John Bregman ,NETHERLANDS

It was an amazing trip. I feel very comfortable and safe with my driver and guides. My guides were warm, welcoming and very knowledgeable. My appreciation for India has increased immensely. I will be returning to India next year and will use TSI's services again. .........

Robin Everett ,USA

Just a short message to tell you that we are now back to France, after our wonderful stay in India. Everything was so well organized, we were very satisfied with the services of the drivers and guides, and we were happy about our intensive visiting program. We are really fascinated by your beautiful country.........

Mihaela and Cornelia ,France

A very well organised roundtrip through a beautiful country. Nice excursions and still plenty of free time. Very good and friendly driver, who was giving us a lot of extra information and showed us the most beautiful places. India was a very holiday for us thanks to TSI......

Nico van der Sluijs ,NETHERLANDS

It has been a great experience for us to visit india .All trip has been well organized and it has covered our expectations .You(Travel Spirit international) are A very good travel agency and we will comment it to our country's travel agency. We have been assisted excellently in every moment.The hotels during the whole trip have been very comfortable and nice. The driver Pawan has been on time,and polite ,perfect driver.....

Mr. Albert Roig ,Spain
India Tour Packages